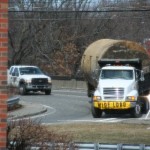 Avoid costly environmental, safety and legal disasters!
A leaking oil tank on your property can be a nightmare for you as a homeowner – not to mention any potential home buyers!
You can trust P.E.P. Enterprises to deal with your aboveground and underground oil tank rapidly, efficiently and safely. We're experts in all stages of home, business and commercial oil tanks including tank location, tank inspection, tank removal and tank installation.
Worried about what the tank left behind? We handle that too. Services include site assessment, soil testing, site remediation, and removal of contaminated soil.
P.E.P. Enterprises is Occupational and Health Administration (OSHA) compliant and registered and accredited by the Environmental Protection Agency (EPA).
We are fully licensed and insured